At Submarine,
we shape your
ideas to life.
Through digital media,
we help clients enable their voice through audio production.
Our three approaches in realizing client's communication strategy.
Our three approaches in realizing client's communication strategy.
Client
Challenges
Let's move forward with
Submarine.
Get Started Today.
propo.fm

podcast

Audio Content Production
At PROPO.FM, we support delivering vital voice content through audio.
Our service support everything from the concepting, program planning, turning the plan into a script, recording, editing, and publishing. We also connect program creators and sponsors, and support monetization and PR for the creators and sponsors.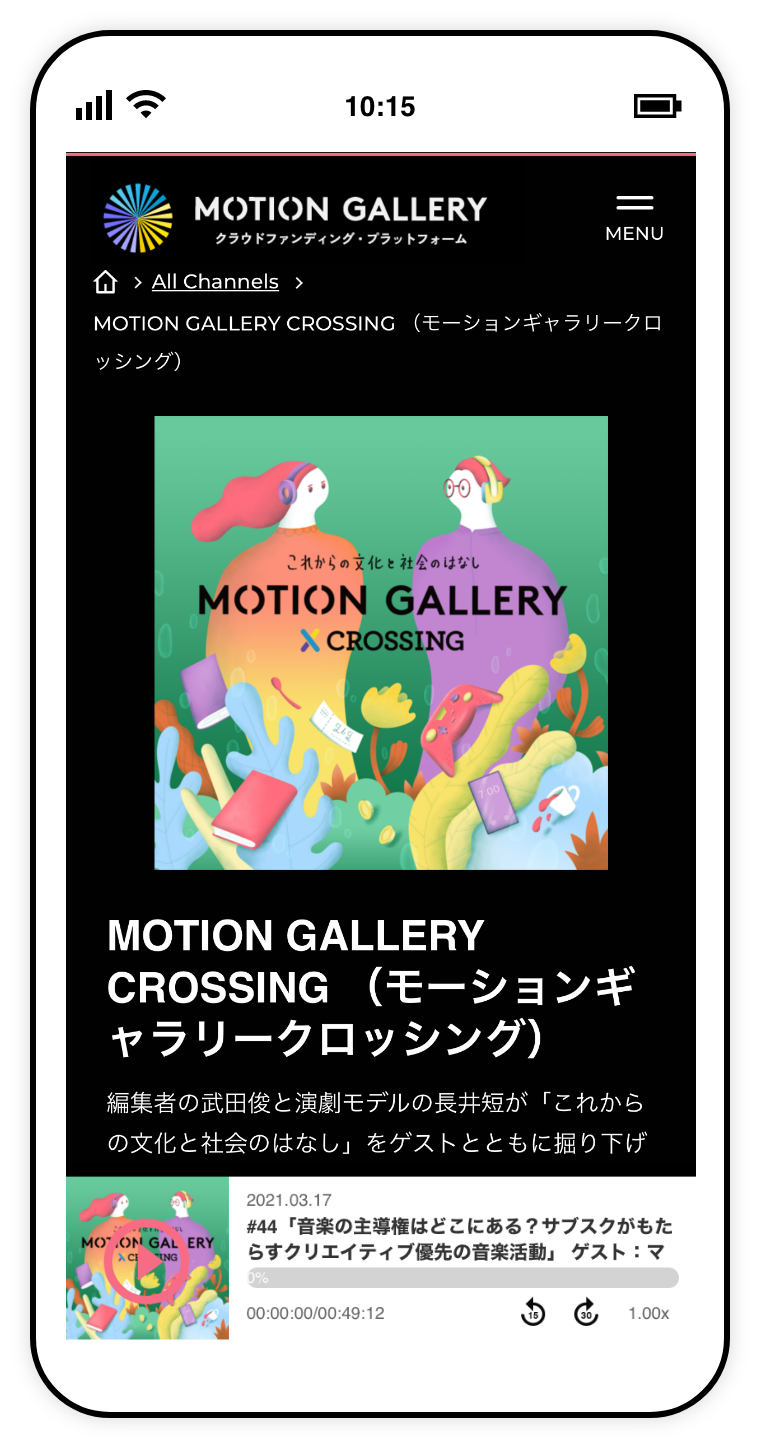 Crowd funding paltform "Motion Gallery"
Production of the program started in April 2020 and recordings took place on a weekly basis.

Podcast is available on Apple, Google, Spotify and other platforms.
Podcasting Use Cases by PROPO.FM
We provide a wide range of creative services, from planning to operation for various types of production required in areas other than audio content.
Planning and Design

We will listen to the concept and outline of your plan, and carefully direct the plan into reality from the UX/UI perspective. You can leave the entire production management to us with peace of mind.

Defining the requirements

Producing the framework

Managing the production

Design

We provide a complete set of web-related production services, from design to actual publication. We can also handle a variety of creative production such as banners, illustrations, and print production.

Website development

Print media

Creative media production
Content creation

Not only do we produce audio content, but we also produce articles and videos. We will conduct interviews and filming, and produce the whole process from manuscript, video, and still images.

Interviews

Manuscript

Filming and video production

Operation

We can take care of the entire operation of your website on an ongoing basis. Based on competitive research and other factors, we will focus on the keywords you want to strengthen, and manage the content for optimal SEO.

Article Creation

Website Management

SNS Management
We support businesses launch their service, starting from conceptual stage and contribute to the operation and improvement of the service through repeated improvements.
Small to medium scale product development

We develop web services and web applications, focusing on medium and small-scale web service development immediately after the planning and conceptualization phase. As the scale of the project increases, we also support the use of offshore development.

Web Service Development

Offshore Dev & Project Management

Big Data & Analytics Services

In order to utilize the data accumulated through digital marketing and business operations for marketing, business operations, and management understanding, we support visualization through organizing the infrastructure for data extraction, conversion, and storage, isolating measures and management indicators, KPI design, and dashboard creation.

Measures and Results
Metrics and KPI design
Marketing Data
Data Foundation & Management
Customer data
Data management infrastructure
Data Visualization
Performance Dashboards
Digital Marketing Services

We support the development of operational processes necessary for marketing implementation, from tool implementation to content planning, as well as operational and business process design and offshore utilization.

Web content and
Email planning, production and operation
Digital marketing tool implementation
Marketing
Business Process Design
Offshore Resource
Utilization
Team Members
After working for a trading company, he joined Accenture. In 2018, Hiroto founded Submarine, LLC a joint venture that produces audio programs to explore the possibilities of relationships that can be built through the imagination of people using the "voice" as a medium.

At a major technology company, he was involved in the development of many IT products, the launch of in-house services, and team management. Since then, he has been active in various industries, mainly in the areas of business development and technical consulting.

Chief Designer

Fukiko Yamada

(Fukiko Tomikawa)

After working in sales and at a prefectural government office, Fukikok was employed as a web designer at Sinap Inc. Outside of Submarine, she works independently as a freelance web director and UI/UX designer.
https://cocon-style.com
Contact Us
Please provide the required information for for any questions or inquiry.
A representative will get back to you by e-mail as soon as we can.
Company Profile
company name

Submarine LLC
CEO

Hiroto Soshizaki
address

Washington Building 2F, 3-2-9, Nishi-Shinjuku,
Shinjuku, Tokyo, 160-8336, Japan
url

https://submarine-c.com/